[軟體名稱] VSO Downloader Ultimate
[版本語言] v3.1.1.10 繁中(多語言)極致版
[官方網頁]
www.vso-software.fr
[隨身免裝] 7z
這裡
或
這裡
(18.1 MB)
[解壓密碼] 無
[軟體概要] VSO 出品的影片/串流媒體下載工具軟體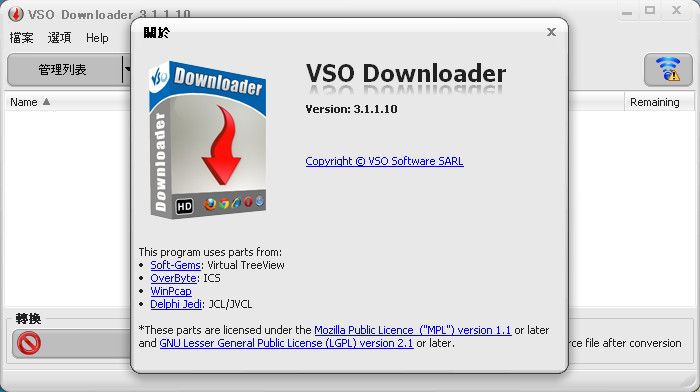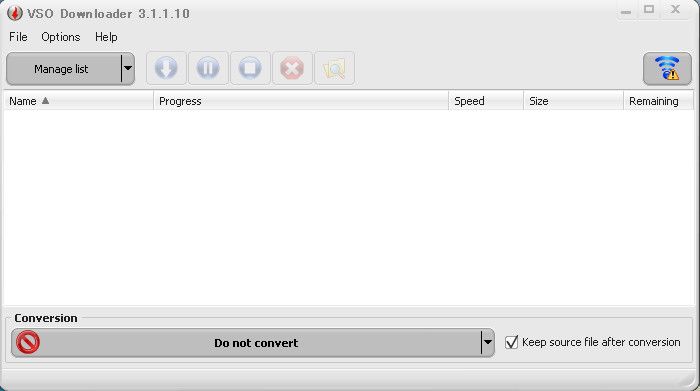 Download video streaming
Capture streaming from thousands of sites like DailyMotion, Yahoo, Google Videos,
Download YouTube, Facebook, Vimeo, Metacafe, Myspace and more video and audio streaming sites
Streaming content is detected and downloaded automatically
VSO Downloader works automatically, no need to copy and paste URLs
Download HD video streaming by selecting HD resolution on your web page
All formats supported: FLV, WMV, ASF, MP3, MP4, SWF...
Audio & Video Converter integrated
MP3 converter integrated
Download videos in MP3 audio format from any site: MySpace, Dailymotion, YouTube + more
Convert video files to various formats automatically after download
Download YouTube to MP3
Convert to AVI Xvid, AVI H264, and Mp4, Mpeg4
Free
100% Clean and free
No adware and spyware, or toolbars
Free streaming downloader
Compatible with any web browser
VSO Downloader works independantly from web browsers, so therefore it works with all of them, Internet Explorer, Firefox, Chrome, Opera, and more.
Multi-protocol support
Supports RTMP (downloads 50% for non registered users)
HTTP, HTTPS...
RTMP & HTTP steraming recorder
Customize file detection
Select the files to be detected or ignored
Automatic or manual downloading
Choose for files to be downloaded automatically after detection or upon your request
Software works in background and can be controled via tray icon feature
Ad Blocker
Detects ads and does not download them
User friendly file names
Smart automated file renamer is integrated
Manual file renaming during download is also possible (F2)
VPN & Proxy
It supports all main VPNs and proxy servers
Compatible with SOCKS5 protocols and HTTP
High Speed-Download
Robust Multithread algorithm to download the files in mulitple parts creating 1 complete quality file
Record streaming quickly and no longer wait on buffering
Download multiple files at once
Resume downloads
A resume function starts the download from where it left off
When the downloading process is interrupted, you do not need to start from the beginning again
Pause one or all downloads
Download lists automatically saved and loaded again when closing and opening VSO Downloader again
Compatible with Windows OS (32 & 64 bits)
Works with XP, Vista, or Windows 7
p.s.:隨身免裝
1--用WinRaR解壓到任何地方(或USB)為單一Portable_xxx.exe
2--此版為WinRAR壓縮製作,也可再用WinRAR再次解壓為目錄
3--已破解,內附額外驅動與說明