[軟體名稱] STOIK Imagic
[版本語言] v5.0.7.4617 英語 Premium 版
[官方網頁]
www.stoik.com
[隨身免裝] 7z
這裡
或
這裡
(50.1 MB)
[解壓密碼] 無
[軟體概要] STOIK 出品的圖像/影片編輯與管理工具軟體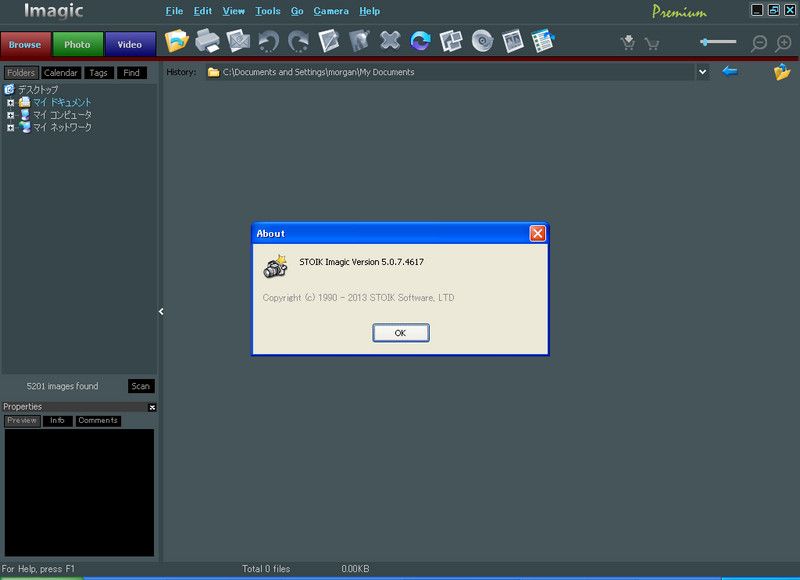 Imagic is a powerful yet very easy-to-use combination of photo album, organizer, media viewer, image and video editor with exhaustive set of tools for all digital photo enthusiast needs and tasks. It offers a unique set of must-have and advanced features: convenient organizing and cataloguing through fast media indexing; browsing by folders, calendar, tags; powerful search by file and EXIF attributes; automatic batch enhancement; panorama and HDR stitching; RAW file conversion; stereo images creation, video authoring; creation of games and paint-by-numbers and many more.
Key Features:
Unique all-in-one software: combination of photo album, organizer, photo viewer, image and video editor.
Perfect instrument to get all media files automatically organized even if digital photos and videos are scattered all over computer
- Powerful search (Premium version) and easy access to media files.
- New very fast indexing algorithm scans through thousands of image and video files on computer in a few minutes. Media files could be accessed using the Folder Browser, or user can switch to Calendar Browser which displays media files organized by years, months, and days, or use Tags Browser mode to locate files with certain tag or by category.
Multifunctional Browser mode that offers more than just organizing
- Photo Improvement Wizard which quickly solves common photo quality issues such as underexposure, noise, red eyes, orientation (Premium version).
- Automatic panorama stitching (Premium version).
- Stitching of high-dynamic range (HDR) images (Premium version).
- Geotagging.
- Batch file processing (Premium version).
- Slideshows, web albums creation; picture uploading to photo sharing sites and to online photo printing services.
- Stereo images creation (Premium version).
Dark Room editor for processing RAW and flat photo files in non-destructive mode (Premium version).
- Complete set of enhancement tools and export options. In the Dark Room all image adjustments are saved as a set of enhancement parameters associated with the image, the original image is always kept intact.
- Advanced JPEG export function which allows optimizing the output image quality and provides significant (up to 1.5 times) reduction of JPEG file size compared to same quality JPEGs created with other software tools.
Built-in feature rich image editor
- Powerful editing tools to adjust and enhance photos. In addition to multiple powerful automatic tools such as Auto Levels, Auto Colors, Auto Contrast, Noise & Red Eye Autofix (all versions), Imagic offers a set of special tools such as Skin Makeup, Lens Correction, Exposure, Color Variations, manual and automatic correction and more (Premium version).
- Unique Retouch Brush to hide small photo defects. Old scanned photos can be instantly fixed with the Correct Scanned Photo tool (Premium version).
- Tool to easily align and crop photos with document photo templates. STOIK Imagic offers the easiest-ever Horizon tool to straighten and align your photos (all versions). The advanced Crop tool allows fast and easy preparation of document photos with support of various templates (Premium version).
- Feature for adding artistic effects and creative design to photos. STOIK Imagic offers rich collection of artistic effects to help user turn its photo into a piece of art, create an imitation of oil painting, hand drawing and others. STOIK Imagic is loaded also with a comprehensive collection of tools for creative design with photos, use them to create photographic frames, edges, balloons, clipart, greetings cards, calendars and more.
- Feature for creating visual games from photos. STOIK Imagic goes beyond photo processing, it allows creating and playing visual games - jigsaw puzzle, fifteen puzzle and swap puzzle - made just from photos (Premium version).
Panorama making tool
- Imagic Browser offers a one-click panorama creator ?simply to select the photos and run Panorama command, the software will automatically sort photos, exclude non-matching photos and automatically build a seamlessly stitched panorama image (Premium version).
Photo sharing
- STOIK Imagic allows uploading photos to Google Picasa and other online photo albums, sending photos by e-mail, burning them on CD and creating web album and dynamic slide show. Imagic gives advanced printing options so that user can optimize print layout to save paper space, select different print sizes and options with instant preview.
Built-in Video Editor
- Unlike other photo manipulation software STOIK Imagic has built-in video editor, and you can easily create and edit videos.
- Simple step-by-step workflow.
- Brightness/contrast correction (Premium version), Cut, trim, rotate media clips.
- Function to apply effects and transitions between media clips - manually or automatically.
- Animated or static titles and captions.
- Recording and adding voice-over narration, track for external audio.
- Preview and export of movie in multiple formats.
p.s.:隨身免裝
1--用WinRaR解壓到任何地方(或USB)為單一Portable_xxx.exe
2--此版為WinRaR壓縮製作,也可再用WinRAR將exe檔再次解壓為目錄
3--內附必要文件與說明