[軟體名稱] STOIK Video Converter Pro
[版本語言] v3.0.1.3233 英語版
[官方網頁]
www.stoik.com
[隨身免裝] 7z
這裡
或
這裡
(2.9 MB)
[解壓密碼] 無
[軟體概要] STOIK 出品的影片轉換工具軟體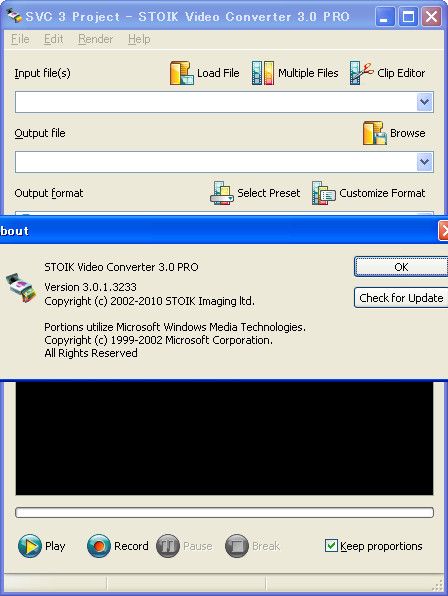 Stoik Video Converter Pro – is an universal powerful video converting, enhancement and video processing software, that allows you to make video format conversion quite easy (such as converting AVI to MOV, AVI to MPEG, WMV to AVI, MPEG to WMV and other popular formats such as DV, MKV), and also create video clips. Available in Free and Pro editions, STOIK Video Converter Pro can convert between AVI, DV, MKV, MOV, MPEG 1, 2 and 4, and WMV formats in all possible combinations. It's the simple way to transform video clips in any needed format.
Supporting all possible codecs and video formats, the video conversion tool allows users playing back any type of media on most portable video players. The ability to trim, cut, split, merge and resize video streams enables easy upload to YouTube, Facebook and other popular video hosting services.
Stoik Video Converter is a leading video converter to convert video and all-included tool for transforming between popular video and audio formats. Our software includes batch video conversion to convert thousands of files and basic video editing tools
The program has simple user-friendly interface. Even beginners find the answer.
While you're searching on the Internet for free AVI video converter, free MPEG video converter, free FLV video converter, free MOV converter, free YouTube or FaceBook converter, Stoik Video Converter is the right choice for you. Download the free Video Converter to convert your videos faster and easily.
Stoik Video Converter Pro edition includes more than 25 filters, allowing for one-click video enhancements. Including about 275 one-click presets, STOIK Video Converter Pro allows you to forget about the video hell, taking care of exact resolution, format, and file size requirements imposed by the many different video players and online video upload services.
p.s.:隨身免裝
1--用WinRaR解壓到任何地方(或USB)為單一Portable_xxx.exe
2--此版為WinRaR壓縮製作,也可再用WinRAR將exe檔再次解壓為目錄
3--內附必要文件與說明