[軟體名稱] MetaProducts Offline Browser
[版本語言] v6.7.0.4016 繁中(多語言)版
[官方網頁]
www.metaproducts.com
[隨身免裝] 7z
這裡
或
這裡
(12.1 MB)
[解壓密碼] 無
[軟體概要] MetaProducts 出品的連線瀏覽器工具軟體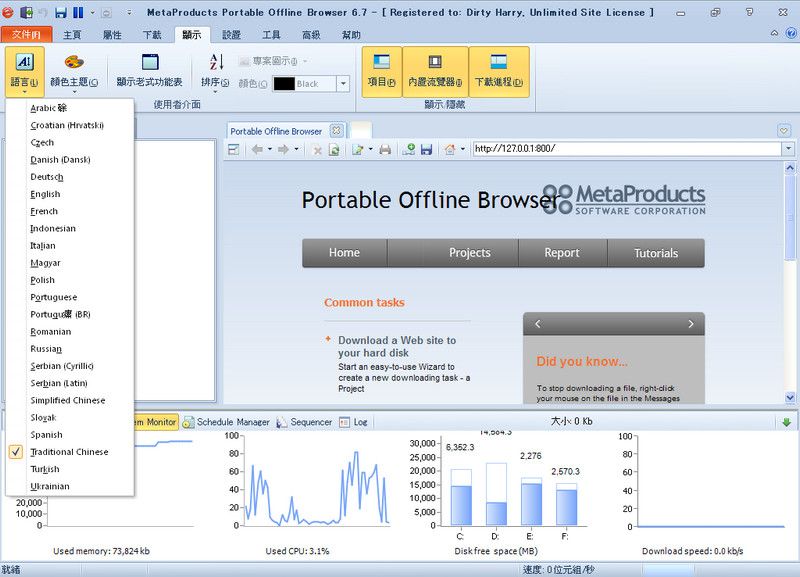 MetaProducts Offline Browser downloads Web pages or entire Web sites, including images, sounds, video and other media files to your hard disk, flash drive or memory card. This will enable you to browse saved content while offline.
Save e-books, news articles, photo galleries and more to your drive so that you can browse them whenever an internet connection is unavailable.
Website Downloader
MetaProducts Offline Browser is an offline browser/Web site download utility. It has a simple user interface and attaches its toolbar to the browser window. Supported browsers: Internet Explorer, Safari, Chrome, FireFox and Opera.
p.s.:隨身免裝
1--用WinRaR解壓到任何地方(或USB)為單一Portable_xxx.exe
2--此版為WinRAR壓縮製作,也可再用WinRAR將exe檔再次解壓為目錄
3--內附必要文件與說明