[軟體名稱] Aimersoft Video Converter Ultimate
[版本語言] v5.0.0.2 繁中(英/德/法/義/西/葡)多語言極致版
[官方網頁]
www.aimersoft.com
[隨身封裝] 7z
這裡
(47.7 MB)
[隨身免裝] 7z
這裡
(50.6 MB)
[解壓密碼] 無
[儲放時間] 免空限制 - 30 天無人下載自動刪除
[軟體概要] Aimersoft 出品的影音編輯工具軟體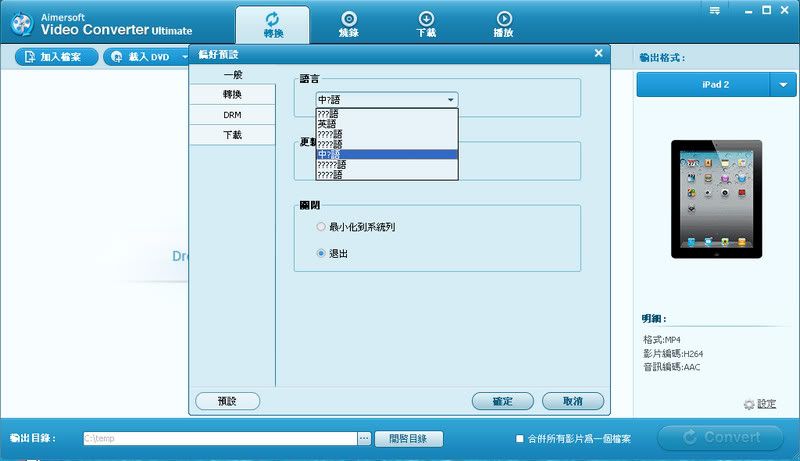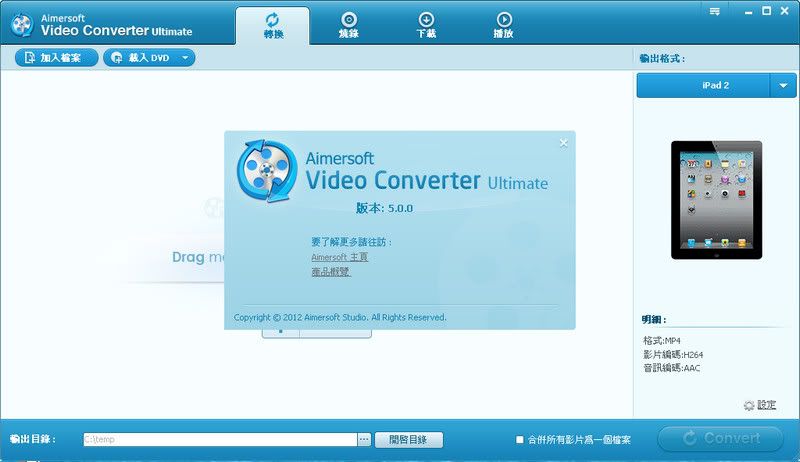 Aimersoft Video Converter Ultimate is a powerful video converter for Windows 8/7/XP/Vista to help you easily and quickly convert video/DVD, burn video to DVD, download online videos and edit your home videos so that you can play and share videos anywhere you like. 30X faster conversion speed now!
p.s.1:隨身封裝
1--用WinRaR解壓到任何地方(或USB)為單一隨身版xxx(ThinApp).exe
2--此版為Thinstall封裝製作,解壓後無法再次解壓
3--已加註容許32位元的軟體執行於64位元
p.s.2:隨身免裝
1--用WinRaR解壓到任何地方(或USB)為單一Portable_xxx.exe
2--此版為AutoRUn壓縮製作,也可再用WinRAR將exe檔再次解壓為目錄
3--已破解,內附必要文件與說明
[註] 1-日本語已被繁中取代
2-此軟體與 Wondershare Video Converter Ultimate 一模一樣,只是名字不同罷了!